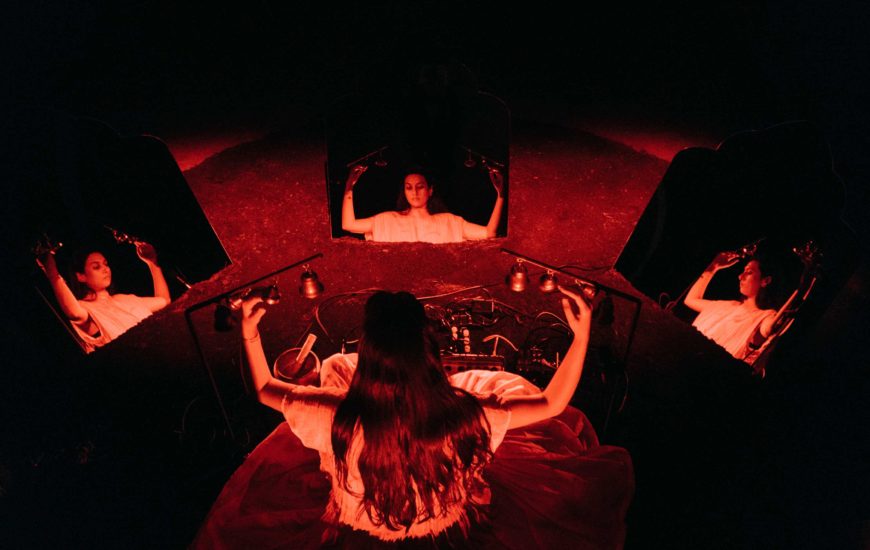 Naomi Blacklock is an Anglo-Indian artist based in Brisbane, Australia who works primarily with sound installation, text works and performance. She is concerned with representations of the 'witch' as characterised by legal, religious and social institutions and the operation of this term by cultural minorities and LGBTQIA communities. Her ritualised sound objects and performances are intended to amplify the body and the voice through performative bodily precision and aural screaming.
Blacklock is also a PhD Candidate and Sessional Tutor at QUT and is a Co-Director of Brisbane's ARI, CLUTCH Collective. She has been exhibited both nationally and internationally including projects at Bus Projects (Melbourne) Seventh Gallery (Melbourne), Institute of Modern Art (Brisbane) Metro Arts (Brisbane) The Walls Art Space (Gold Coast), First Draft (Sydney), PICA (Perth) and Ildiko Butler Gallery (New York). She was the receipt of the Australian Postgraduate Award (2016) and was shortlisted for the Jeremy Hynes Award (2017).
Naomi's practice involves an examination of mythologies about the witch and the female scream as they have been treated in performance art and intersectional feminism. As a queer femme Anglo-Indian artist, Naomi creates performance rituals that explore and examine mythologies regarding the witch archetype and harmful histories of gender and cultural identity. Using her  scream and the motif of the witch archetype, Naomi aims to politicise and reanimate past vilification with the apposing slander and embrace the witch in contemporary societies. Naomi's performance rituals include objects such as candles, bells, salt, soil and mirrors. The candle wax, bells, soil and salt are used to create soundscapes using effect pedals and contact microphones while the mirrors reflect and project her movements as shadows and echo's. By exploring her own voice and witch figure through bodily metaphors, superstitions and rituals, Naomi searches for the ineffable, unobstructed voice in order to open up alternate, unconventional histories.
Image credit: Charlie Hillhouse